Aquaforno II – The Ultimate in Outdoor Cooking
The most versatile outdoor cooking stove around. Portable, collapsible multi-fuel BBQ Grill, Pizza Oven, Rotisserie, Smoker and much more!
The Result
28 million Facebook video views

320,000 YouTube hits through WAYSU affiliated channels

10 x  revenue target – $250,000 raised on Indiegogo 

26,000 shares on Facebook via tech, gadget & cooking pages

Media Exposure in global cross-industry publications
The results speak for themselves – in just 5 days, Aquaforno had reached 100% of its $25,000 USD target and after a month, the campaign broke through 500% of its fundraising. By the end of the pre-order campaign, and the end of WAYSU's involvement with Aquaforno, we had raised more than $250,000 USD. We got exposure in countries all over the world from Germany to Japan, America to Australia, South Africa to Switzerland and many places in between.
Indiegogo Crowdfunding Target: $25k USD
Total raised: $250k USD in 8 weeks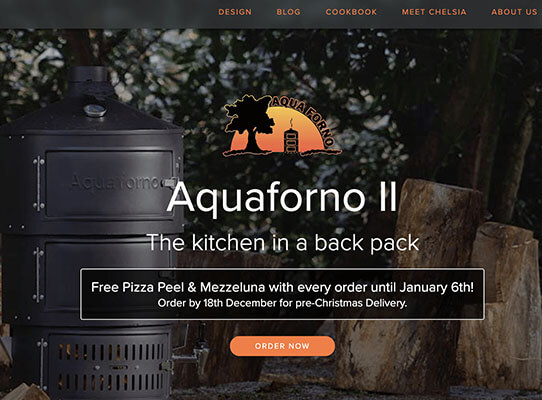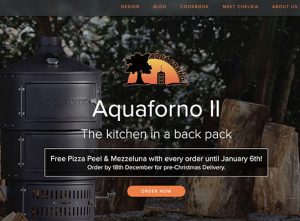 Crowdfunding Success
The Challenge
The UK based inventors of the Aquaforno outdoor cooking unit asked for our help after a failed first attempt at securing funding for manufacturing of the original Aquaforno, via the Indiegogo crowdfunding website; raising just 2% of their set target.
A few design modifications brought about the Aquaforno II, but this time the husband and wife team knew that marketing would be the key to global success; so after a chat in the pub, we were all in it together.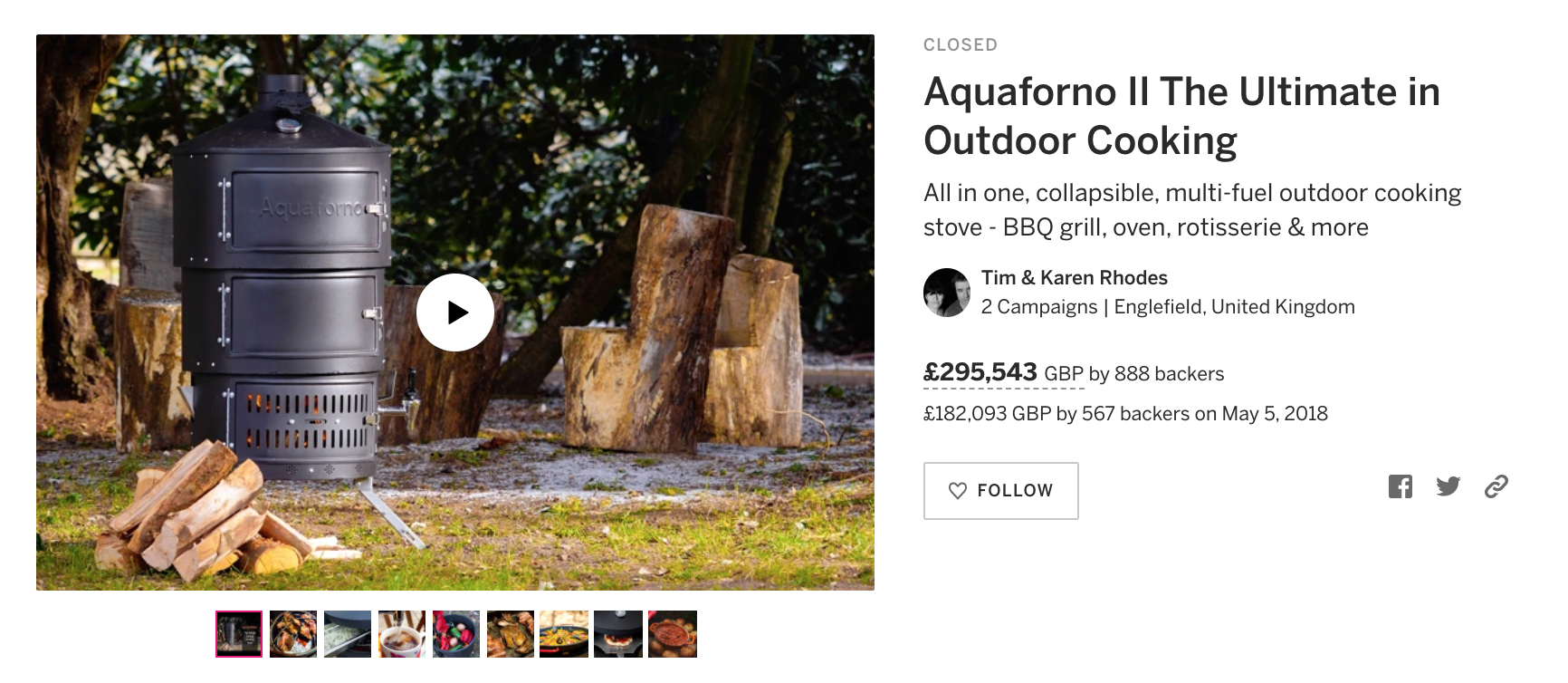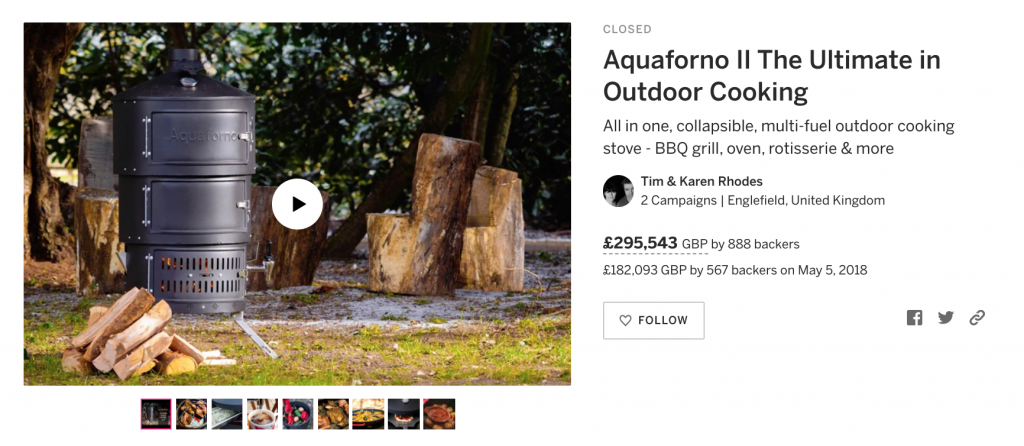 "WAYSU helped us smash our Indiegogo Campaign target within a matter of days – their aggressive marketing strategy, relentless targeting on social networks, and the media attention they managed to get for us, was exceptional".

"They totally understood what we were trying to achieve from a brand and business perspective and we'd highly recommend them to any start-up or SME."
The Strategy


Website
First off, we reviewed and improved their existing website – copy, content, key words, CTAs (call to actions) – all in the name of optimisation. We also switched on and managed Google Analytics to track the success of our marketing efforts – adjusting accordingly as we went along, based on results.
Indiegogo Campaign Page
Building engaging crowdfunding campaign pages were key. The backend of Indiegogo is complex and needed coding – which is another skill set that WAYSU has in its portfolio. We developed the Aquaforno story – and enticed people into the outdoor lifestyle – targeting campers, glampers, foodies, people who like to entertain at home, etc. We also highlighted the best features of the Aquaforno II and the delicious food that could be cooked on it using simple imagery. We also helped to come up with rewarding 'perks' to encourage 'backers' to pre-order.
Social Media
Social Media was absolutely key to the success of the Indiegogo campaign. We took over Aquaforno's Facebook, YouTube, Google and Instagram pages and used targeted social media ad campaigns to hit the audiences that mattered most by region, hobbies and interests, personal status, etc. We really got people talking as individuals and within 'groups' – and we even ran a 'guess what's cooking' competition utilising an existing 3D rendered video of the Aquaforno II.
E-mail Marketing
Using the leads we generated from the above activity, we created and delivered a range of email campaigns adapted to specific target consumers, including auto-response emailers – encouraging people to pre-order the Aquaforno and take advantage of the limited time offer and 'perks' exclusively available on Indiegogo.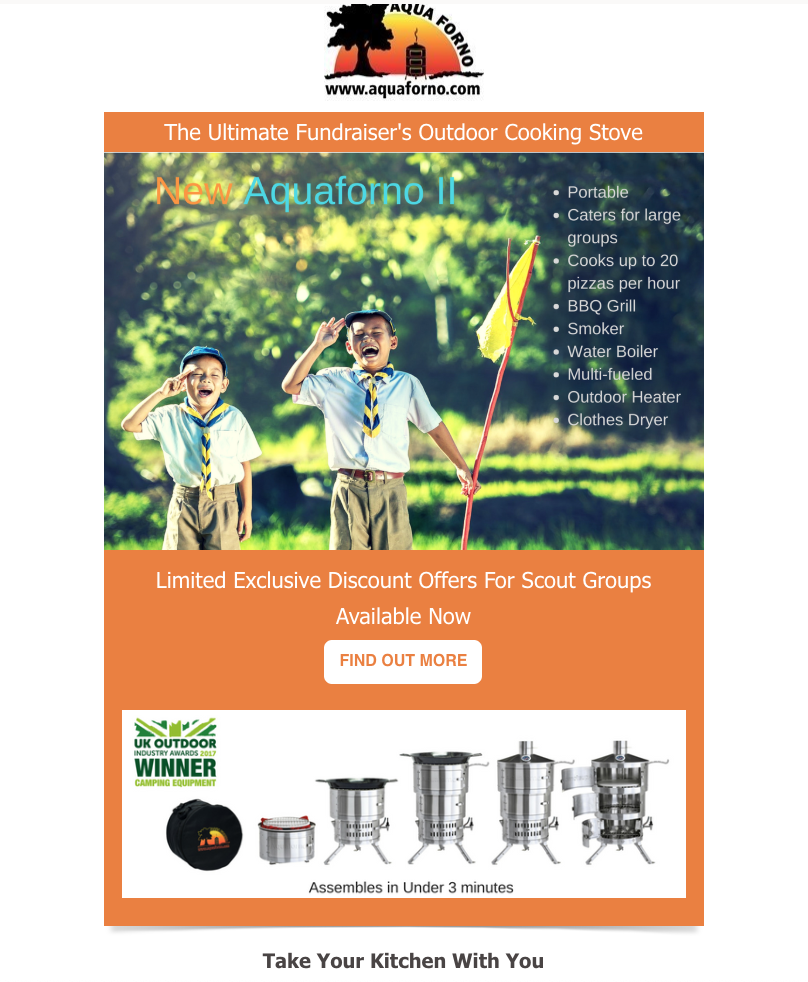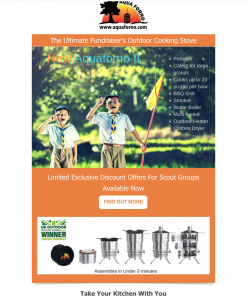 Content Creation
We then put together their full story on Indiegogo, using rich content – including professional video and imagery to capture the imagination of potential customers. It also involved some coding and a lot of creative copy writing.
PR
Just before going live with the Indiegogo campaign, we generated a press release and developed a highly targeted press database, relevant to their key markets, which included BBQ enthusiasts, campers, gadget consumers, outdoor adventurers, tailgaters and more. We also put out a second press release when the fundraising exceeded target within 5 days – and arranged several interviews, reviews and articles to generate credibility and brand awareness.